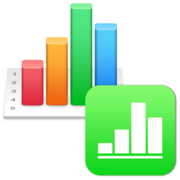 In the second of this occasional series, we take a look at the changes to the latest version of Apple's premiere spreadsheet application: Numbers for macOS and iOS.
With lots of extra features, Numbers is still the best way to crunch numbers and present them beautifully!
Also in this episode, we take a look at protecting your Apple ID using two-factor authentication. This is due to a mandatory requirement starting June 15, 2017, for any third-party apps to use app-specific passwords if they access iCloud services.
The full tutorial covers:
Two-Factor Authentication
Numbers on the Mac
Basic Functionality � Mac
Entering Data � Mac
Rows & Columns � Mac
Insert Objects & Comments � Mac
Collaboration � Mac
Numbers on iOS
Collaboration � iOS
Basic Operations � iOS
Row & Column Actions � iOS
Working with Cells � iOS
App Store Links:
Numbers for iOS iOS App Store
Numbers for macOS Mac App Store