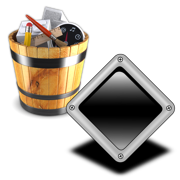 Two desktop utilities in this week's show:
Drop Shadow - Create drop shadows, frames and borders with this simple to use utility,
App Delete - Don't just delete the application, delete all the cruft that goes with it. AppDelete will search out all the hidden files that comprise an installed application and delete the lot. It will also allow you to delete and archive, allowing you to re-install the application at any time in the future.
The full tutorial covers:
Drop Shadow - Introduction
Adding Images
Adding Simple Borders
Expanded Borders
Saving
Working with Multiple Images
Intro to AppDelete
Dragging in Apps to Delete
Deleting, Logging and Archiving
Searching for Applications
Preferences